Cheryl Morrison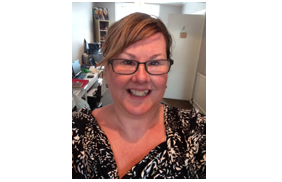 Hello my name is Cheryl Morrison and I am thrilled to have become part of the Caledonian Humanist Association.
Last year after 25 years working as a teacher, I made the decision to leave the world of education to explore pastures new and embarked on my training to become a celebrant with the CHA.
During my years working in education I was a primary school teacher, a college lecturer, I founded the first Forest nursery in Ayrshire alongside my husband, and ended my career as head teacher in a family centre in the east end of Glasgow.
As well as being a celebrant, I am a wife and mum to three kids. Living in the city of Glasgow I love to cycle my wee red bike and walk in the city's parks. I volunteer with a local hospice and love my work on the children's panel.
While becoming a celebrant may seem like such a different career path to take, I have come to realise that the journey I have been on has actually been leading to this.
Listening to people, learning about their life and helping write their story. Making a connection and celebrating life truly is an honour and one I feel privileged to be part of. I think this quote is certainly fitting for my work as a celebrant.
'Let the beauty of what you love be what you do.'